Office & Industrial Packing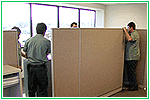 Packing is the first and the most important part of any movement. We, LEO International Packers & Movers, advised you to pack as much as you can into boxes. This will provide greater protection for your belongings and will make loading your trailer much easier. Unusually shaped items take up more space and make loading more difficult. Packing and padding your items are keys to having a successful move. Don't skimp on packing supplies. They are far cheaper than broken or damaged belongings.

Check our moving related services for sites that feature a wide variety of boxes and packing supplies. Start packing several weeks before your move date, taking it one room at a time. Begin with things you use less frequently, such as books and knick-knacks.

Pack each room in separate boxes and label each box with its contents. Fill each box to its capacity, using paper or fillers to eliminate empty spaces. The top and sides of each box shouldn't bulge, nor should they cave in when closed. Pack heavy items, such as books, in smaller boxes. Keep the weight of each box down to a manageable level. Leave lightweight linens and clothing in their drawers. Pack extra linens, pillows and stuffed animals in large garbage bags and tape closed. Plan to use these bags as cushions or fillers in your trailer.

Disassemble any items you can. Be aware of items with sharp corners or projections and keep them from puncturing or scratching other objects. Pack your valuables and essentials separately and plan on keeping these items with you. Storage can only be arranged on a short-term basis, or for longer periods, depending on your requirements of the client. We can provide you warehouse facilities to safely store your goods in a clean, safe environment.