Heavy Machinery Loading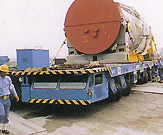 Heavy loading of your goods is done by skilled labors with utmost care. We ensure safety transit of your good at every stage.

LEO International Packers & Movers is one of the industry's leading providers of innovative, differentiated logistics and transport services. Making transporting and trading smooth and successful as possible, our skill and experience aids us in giving superb customer service and gaining repeat customers.

With our heavy transport service, we will make work easier and faster for you. If you wish to find more about our service, please take a tour in our website. All our services guarantee unparalleled performance and premium customer service, all at very affordable rates.

Our experts work 365 X 24 X 7 making them capable enough to handle a wide variety of products. We have large and spacious storehouses purely dedicated for inventory management along with warehousing of various household goods. We specialize in warehousing facilities across India, transportation of delicate, fragile and precious goods are made easy, fully trained and skilled personnel to meet vital delivery deadlines.

If you need heavy transport service, reliable oversized load transport, we have the skilled and people and high tech equipments to deliver the service that you need.